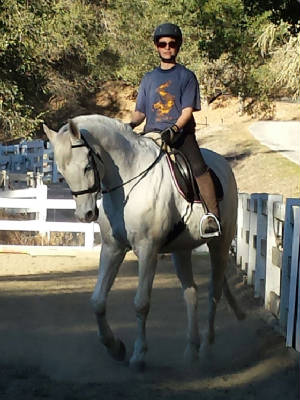 "I have been riding with Jonna for almost two years now. Horses have always been a passion but prior to taking lessons with Jonna, I had ridden on and off a number of times without ever being able to learn in a consistent manner. What I have liked about Jonna's style since the beginning is that her dressage lesson is less "academic" and instead focuses on the rider's relationship and communication with the horse, not only making sense of what we're trying to accomplish and how to do it but also why. And her upbeat attitude is always fun and encouraging, even when having to work through challenges. Jonna's helped me in many ways: all aspects of buying a horse and tack, developing self-assurance riding, drastically improving my riding from basic riding to dressage level 1, and helping better understand my new horse Smokey and work with him. Although he was very sweet and safe from the start, he and I were having refusal issues early on that may have been brought on by one of many possible issues, or a combination. We worked together to identify all the possible causes and progressively worked through every one of them, from improving his diet to developing my confidence as a rider and ensuring that I keep him engaged throughout the ride. We've made so much progress as a team over the past few months it's like he's a different horse (or I'm a different rider)! Learning with Jonna and Smokey has truly been a blast and I feel very fortunate to have both an awesome horse and such a skilled trainer." Agnes
After years of taking lessons at several different barns I found the right fit with Jonna and her barn. I rode her schoolmaster Frenchy, and was very impressed by his temperament, patience, and amount of training. The barn is small, safe, and unpretentious, and I enjoy spending time with all the horses, their owners, and other riders. We soon realized that I was ready for my own horse and Jonna helped me with all the details. Together we found Patrick, and in the past year we have made tremendous progress with his training. I feel very lucky to have an educated trainer with me every step of the way.




Erin Riding Sholder-in on Frenchy
I have been riding for 11 years and after selling my horse when I went to college, I wanted to further my dressage training. I found Jonna and went to have a lesson from her. I rode her horse Frenchy and was impressed by how technical she was with what she wanted me to do. If she wanted me to change something with my position we would discuss the different approach and its advantages. If I wasn't able to understand something she would demonstrate it on the horse for me. Since taking lessons I have improved my lateral movements by understanding exactly how each part of my body make a different part of the horse move.
Jonna's horse Frenchy that I ride is a true school master. He is very well trained but yet will challenge you, making sure that you ask for each movement correct. I have never ridden a horse before that has such a kind heart, he will give all he has to you. I look forward to every lesson that I have.

.
Ursula riding Alamoso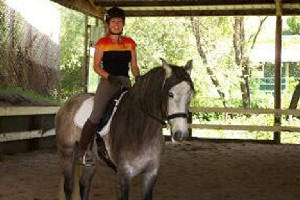 Ursula
I purchased Alamoso a few years ago and had moments where I thought that it was a mistake. Jonna has been extremely helpful and patient, her ability to take a problem, break it down and examine each piece has been the perfect approach for both myself and my horse. It is a rare quality to find an educated trainer without a personal competitive agenda. Myself and others who know my horse are amazed at the progress we are making. I am looking forward to what we can achieve in the future with Jonna's guidance.